With Hikvision MinMoe facial recognition, controlling access and attendance has become a convenient, touch-free experience.
Hikvision MinMoe
Grant access to areas only to previously authorized people, after just a quick scan of their face.
Thanks to its deep learning technology and practical functions, Hikvision MinMoe facial recognition terminals pair improved security and efficiency with optimized entrance and attendance control – while ensuring user-friendly operation!
High degree of recognition in any setting

Greater than 99% accuracy

Recognition speed less than .2 seconds

Quick recognition even in poorly lit or completely dark settings

Easy to manage and use

Quick and easy registration with different means of access

Remote control enabled through mobile app

Simple web configurations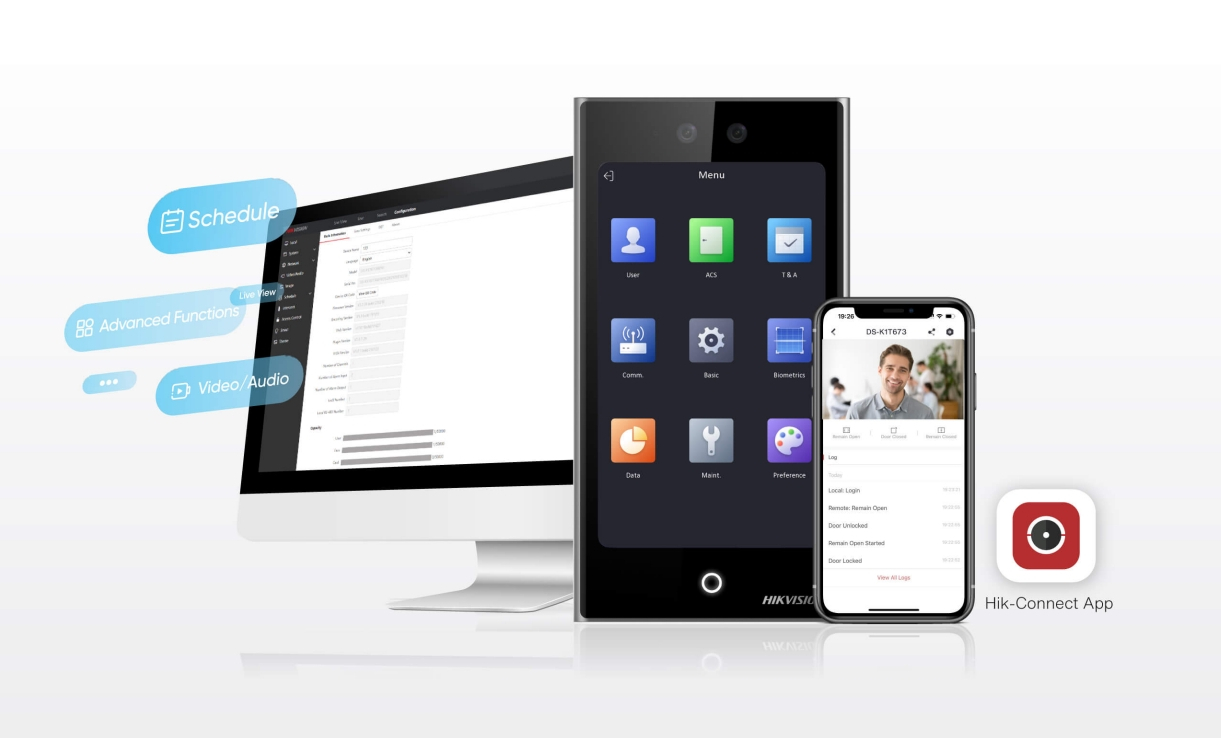 FOR COMPANIES
Offering quick control, convenience for employees, and security for companies.
Many companies in Canton Ticino employ rigorous systems for entrance control, due to security and privacy concerns. Nevertheless, conventional verification methods are less reliable and convenient than modern facial recognition. For example, employees might lose their ID cards, which might cause potential security risks. Authentication through fingerprinting is not recommended when staff must carry boxes or wear gloves. Facial recognition resolves all these problems and guarantees security and comfort wherever needed.
Higher degree of security:
Facial anti-spoofing guarantees secure access

Data encryption protects privacy
FOR OFFICES
Timecards, PIN codes, cards, and fingerprinting? Welcome to the era of facial recognition.
MinMoe facial recognition terminals offer an efficient, reliable solution for offices and for entrances to sensitive sites, such as laboratories and restricted areas, thanks to its quick recognition capacity that takes less than 0.2 seconds and offers great security benefits. A huge step forward compared to the laborious procedure of stamping timecards or fingerprinting, which is especially troublesome during times of heavy entrance traffic.